What Cleaning Methods Do You Use?
We use our years of experience to determine the cleaning method that's best for you, depending on the item being cleaned and of course, any special requirements. For most residential jobs, steam cleaning is the most effective cleaning method, while for commercial work, our dry-cleaning equipment is better suited to the task.
Steam Cleaning

Steam cleaning has been around a long time, and for good reason! Our steam cleaning method heats up water to over 200°F, injecting our Eco-friendly cleaning solutions into the carped, and extracting it out along with dirt, grime and grease with our powerful vacuum system. Over the years, our customers, both residential and commercial, are often shocked at how vibrant the colours of their carpets look after they have been cleaned.
Dry Cleaning
Dry cleaning is another effective method that we use. Often times, it's used for large-scale commercial work, such as hotels, apartments complex's, restaurants, and other public spaces, where the logistics of steam cleaning are not viable. This method of cleaning is very effective for commercial-grade carpets which experience a lot of foot-traffic and require frequent cleaning, thought it can be used effectively for residential work too!
Upholstery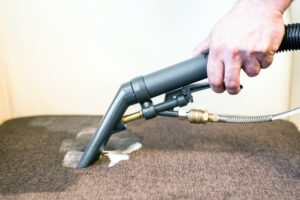 We also have specialized tools that we can use to clean your drapery and furniture. These tools allow us to safely steam-clean these items and remove stains, dirt & grime. Many customers had thought they would have to buy new furniture, but are grateful afterwards, with how much money they could save by having their sofas, chairs and curtains, professionally cleaned instead!
Tile Cleaning
For tile and grout cleaning, the most difficult to clean is the grout. This is where most of the dirt gets trapped, and it's easy to overlook this while cleaning. We don't overlook this. Our specialized scrubbers are fitted with brushes that can get in between the tiles to ensure there is no dirt left behind. We've cleaned everything from residential foyer's to greasy floors of restaurant kitchens.