Special Treatments
Even the toughest stains and odours can't stand up to our cleaning methods.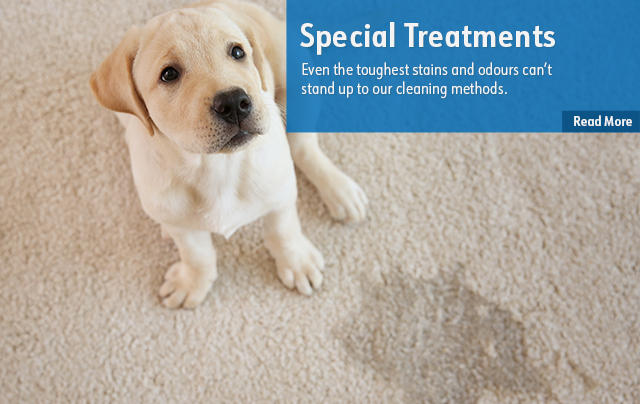 Special Treatments
For times when traditional carpet cleaning methods just aren't enough, Garec's Cleaning Systems offers a number of special treatments which include:
Stain removal
Sometimes accidents happen. Whether it be from a beloved pet, or that glass of wine that slipped from your hand, we've got it covered.
Smoke and odour removal
We don't just mask odours, we remove the source of them. If you've got unwanted scents clining to you're carpet, we can exctract them.
Pet odour treatment
As pet owners ourselves, we know what it's like to deal with unwanted pet odour, and Garec's Cleaning Systems has the experience and skill to treat it.
Dust mite control and sanitation
Having your carpets professionally cleaned can help your household stay clean and germ-free.
Dry cleaning available
If the situation calls for it, we can have your carpets dry in as little as 45 minutes to 1 hour.

We are in the cleaning supply business and when people come into our store and ask, "Where can I find a good carpet cleaner?" I never hesitate to recommend John, owner of Garec's Cleaning Systems. He has been doing our carpets for years and, like his father before him, always does an awesome job. They have been doing this for over 50 years. When our customers come back in our store, they tell us how pleased they were with the work that was done, and that makes us feel good! —Doug, Tanshaw Products, Welland